Coming up next - 21.01.2023

* UpClub *

LIVE:
* MOHAMA SAZ *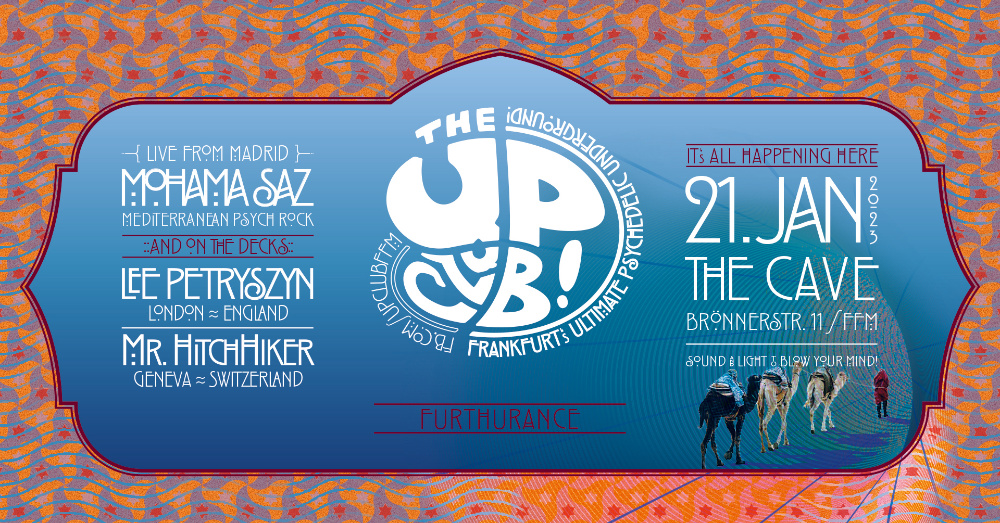 * UpClub *

As the pages of time flip us into another calendar year, we saw it fit for a psychedelic supplement, a tonic for the winter blues! Come on down to our Cave of wonders with music and light to blow your mind! All vinyl and far-out analogue light show all night long! The UP CLUB presents

FURTHURANCE with:

LIVE - * MOHAMA SAZ *

Hailing from Madrid, Spain and recently the name on everybody's lips Mohama Saz will be electrifying us all with their unique concoction of mediterranean psychedelic rock peppered with sounds of the far east! Once these guys get going with thrusting, almost ritualistic soundscapes which defy any time or space, it is plain to see why they have been so in demand with crowds flocking to their shows. We are absolutely delighted to have them playing The UP CLUB stage!


* LEE PETRYSZYN *

An adept dj and record collector with a keen ear for what you want, should you wish to have a real fine time! An instrumental figure of the London scene keeping dancefloors filled with his selections and quintessentially British psych sounds with a few platters from the continent thrown in for good measure! Lee is one of the sweetest guys to boot & we can't wait to have him behind the decks here in Germany for the first time!


* MR. HITCHHIKER *

Last and by absolutely no means least on the bill is the freewheelin' Mr. HitchHiker (aka Pierre) from Geneva, Switzerland! He and his box of worldly treasures will be making their next stop here in Frankfurt to tickle your ears and keep you put on the dancefloor! Tropicalia, garage and rarities from all corners of the globe!


PLUS your hosts and dancefloor deacons:
*** KONRAD & MARC-ANDRÉ ***

facebook
instagram


*********************************

LIMITED PRE-SALE TICKETS 15 € (incl. p&p) to book message The UP CLUB via DM on facebook or instagram or send an email to: party@theupclub.de ON THE DOOR 18 € band & party


*********************************
Abendkasse: 18 €
Konzert & Party
*********************************
Einlass: 20:00 Uhr
*********************************
Beginn: 21:00 Uhr
- Open End
*********************************